Table of Contents
ChangeLog
As per Nomi Sirnah's review, the pillows have been split off from the main build and we added a texture changer for them. The script for the textures changer can be found on the pillows page.
Orphelie mentioned that the textures do not change using the menu. This was a double bug, a permission error on the textures and the bed commuted to the count-read state when somebody else except the owner touched the bed. This has now been fixed. Thank you! To update, you can buy the product again, and if you made notecard modifications, just copy and paste them over.
Updated the harvester and added documentation on how to adjust poseballs. Previous buyers are advised to get the item again if they want to adjust poses and follow the tutorial on adjusting poses.
About
The following is a ladies' chaise longue that features an original Wizardry and Steamworks, homebrew pose-system. The goal was to make an alternate system that is much more efficient compared to the other pose systems available in Second Life. We had in mind to minimize code, make good use of memory, reduce global variables and, most importantly, keep any generated lag to a minimum. In total the item showcased here uses only three scripts in total whilst providing a competitive complement of poses. We use our own LSL functions repertoire from our webpage and we avoid hacks that would penalize the portability of the code. The sofa is tested and compatible with OpenSim (as of this date, OpenSim 0.7.5).
Since we have build a functional API (on top of the structure of the already-existing LSL API, with the LSL FUSS), we now integrate several Wizardry and Steamworks technologies in order to generate the first open-source, free and fully-featured sofa.
Screenshot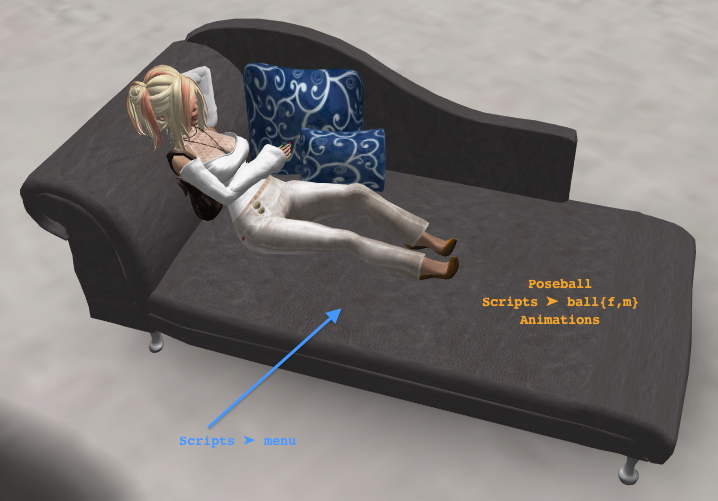 Marketplace Item
Features
Apparent to Every User
8 single sits (PG).

7 cuddles (mature).

4 kisses (mature).

17 sex poses (adult).

11 oral sex poses (adult).

8 kinks (adult).

2 finals (adult).

It is possible to rez multiple sofas on the same simulator and they will not interfere.
Restricted to Owner
Allows to change the sofa texture (white, brown, grey and black).

Settable to PG-mode, Mature mode and Adult mode. PG occludes mature and adult and mature occludes adult. Please refer to the apparent features for each set's rating.
Adjusting Poses
A tutorial for adjusting poses is presented on the poseball system main page. The procedure roughly involves rezzing the harvester, the poseballs for a given pose and then amending the notecard in the scripted primitive by letting the harvester compute the displacement and rotations automatically.
Index