Circle Area and Perimeter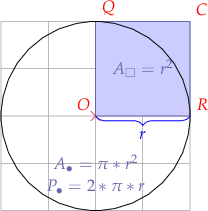 A circle contains the maximal surface in relation to its perimeter. This translates to spheres as well, since a sphere contains the maximal volume in relation to its surface.
Equation of a Circle

where the parameters

and

represent an offset from the origin point

(usually both equal to zero if the circle is centred in the origin point).
---
fuss/mathematics/geometry/shapes/circles.txt · Last modified: 2017/02/22 18:30 (external edit)
For the copyright, license, warranty and privacy terms for the usage of this website please see the license, privacy and plagiarism pages.