The set-up is very simple, the script requires a notecard called Waypoints, consisting of coordinates given on every line and with a blank line at the end, to be dropped along with the script in a primitive. The only catch is that a coordinate line has to be given for every region border. For example, right at the beginning of the movie (right from the START marker, a region crossing takes place. This is done by the following sequence of coordinates:
<31,59,1004>
<0,59,1006>
The first set of coordinates moves the shuttle to <31,59,1004> and the next set of coordinates <0,59,1006> moves the shuttle right at the border. You can observe this by the 0-value of the X-coordinate.
Suppose the following schematic represents a region: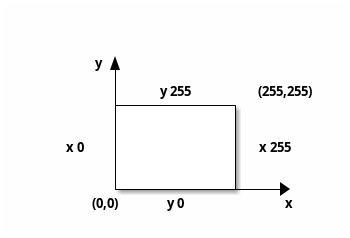 In that case, the second coordinate from before <0,59,1006> represents a sim-crossing on the left border of the region (looking at the map, it is a crossing from SUNO Regents into Tulane). This happens again in the sample notecard below: <0,182,24> which, again, is a left-crossing over the region border between Tulane Regents and Loyola Regents.
For the grand-prix you have watched in the video, a notecard with the following contents was used:
<31,59,1004>
<0,59,1006>
<129,189,25>
<0,182,24>
<41,42,28>
<66,220,27>
<64,255,35>
<111,206,26>
<255,54,48>
<255,76,37>
<146,132,23>
<180,255,44>
<128,128,29>
<128,255,28>
<202,170,43>